Abril/2019
FROM THE CHAIRMAN – SHAYNE LA COMBRE
SL_email.jpgWorld Plumbing Day 2019 was the biggest and best celebration of the day to date as the event continues to grow year on year.
Between 12 February 2019 and 20 March 2019 there were 500+ tweets using the hashtag #WorldPlumbingDay, hundreds of Instagram and Facebook posts that reached an audience of thousands. On 11 March, the campaign culminated with a simple message; "It's World Plumbing Day". That message alone reached over 70,000 people online. If you missed the campaign, you can find the resources here.
The campaign contributed to significant growth in our social media following, with over 800 new followers over our varied social media channels.
Of course, World Plumbing Day is not just about sharing messages online. It is about gathering with colleagues and engaging with your community about plumbing and all the benefits it provides. This year's activities were extremely varied and saw award ceremonies, coloring competitions, community water ways were cleaned up, industry forums held, celebratory breakfast and lunch events, meetings, school presentations and skills contests.
WORLD PLUMBING DAY 2019 AROUND THE WORLD
World Plumbing Day online
In 2019, the WPC launched its first dedicated World Plumbing Day social media campaign. The images below represent some of the images that we used across our social media platforms: Twitter, Instagram, Facebook and LinkedIn
If you or your organisation is not already connected with the WPC via social media, make sure to do so today! The simple act of sharing one of these images helps to spread our message far and wide.



The Better Life Outcomes initiative joins the dots between plumbing, sanitation, health, training and employment for indigenous Australians living in remote communities. The initiative will commence with pilot projects in communities in WA's Kimberly region and in regional Victoria. The pilots will include an audit of current infrastructure and availability of maintenance services, followed by a full needs analysis, cost modeling and training.
See link to the video of WPC Chair Shayne La Combre speaking at the event here
Master Plumbers Association of Queensland held a World Plumbing Day Industry Breakfast and announced their 2019 industry ambassadors.
"With the wealth of industry experience and diversity of these three ambassadors, we are able to focus on the industry as a whole, both male and female, ensuring the longevity of our industry. The Ambassadors will focus on raising awareness to students about what's involved with an apprenticeship and where the trade can take them both professionally and personally," – Ms Penny Cornah, Executive Director of Master Plumbers' Association Queensland.
WPC Scholarship Report, Shay Shanahan, Ireland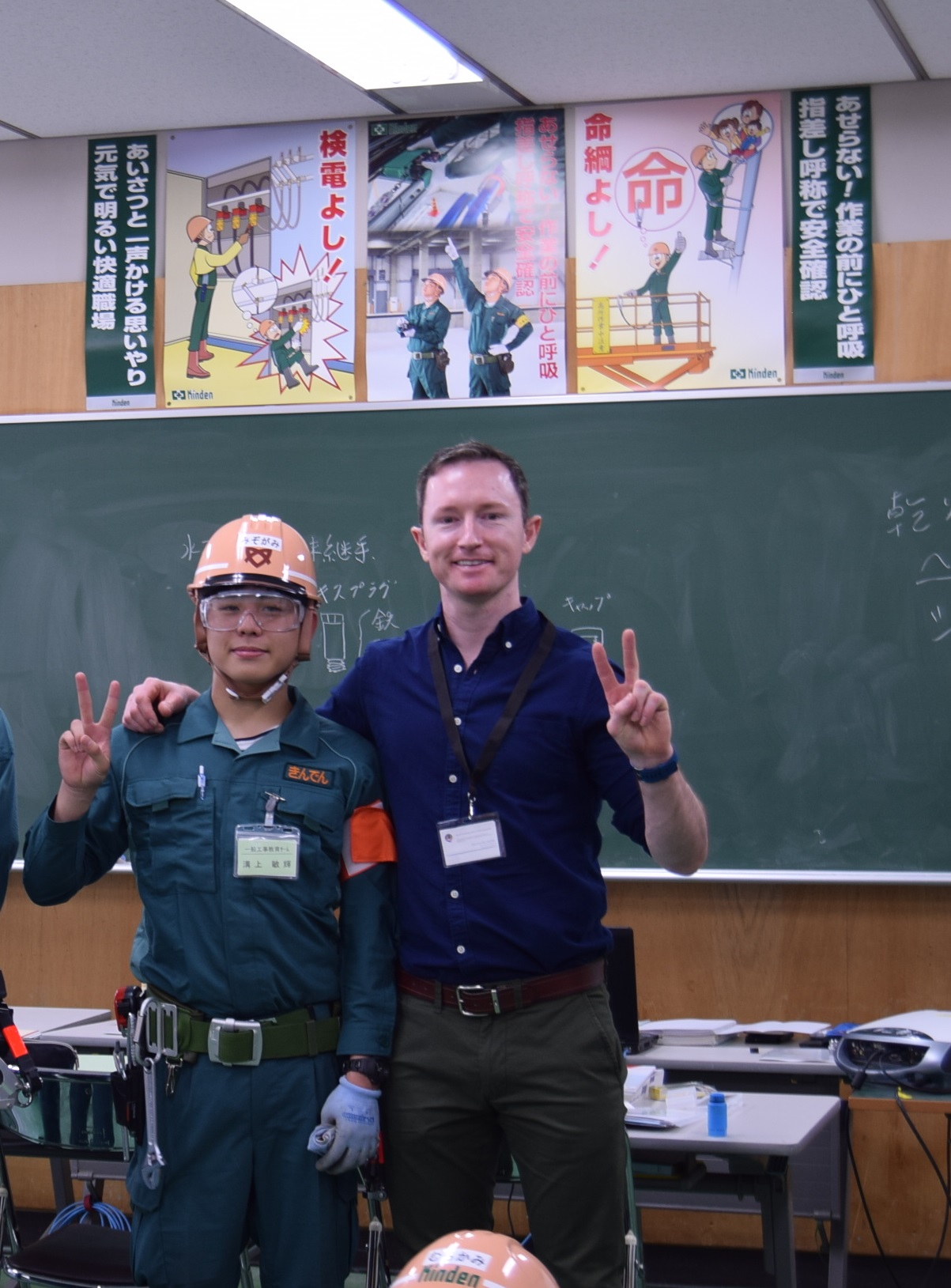 23.-Shay-Shanahan_Japan-2018.jpgShay Shanahan, a plumbing teacher from Ireland and the recipient of the WPC Education and Training Scholarship in 2017 undertook a study to compare the plumbing education & training in both Japan and Ireland in May 2018.
During Shay's visit to Japan he visited the Tokyo Metropolitan Flood Defence Centre, Nishihara Engineering Ltd, Kinden Corporation Training Centre, an Industry Vocational High School in Osaka, a WorldSkills demonstration, and spent a day in the life of a plumber in Kyoto. He also got chance to visit two plumbing material manufacturers.
Read the full report here
Shay said of his experience that it has been life changing.
"The World Plumbing Council Scholarship has offered a way of seeing things differently which has been a catalyst for learning. The study provided me with data from observations and from experiences with others in the field which has enhanced my own teaching practice in Ireland. In addition, the World Plumbing Council Scholarship provided me with an opportunity to network and meet other plumbers and industry professionals from around the world.
I was overwhelmed with the generosity we received from people we had never met. Japan has left fond memories in my heart. I really hope you enjoy the report."
COMMUNITY PLUMBING CHALLENGE, NAVAJO NATION
Navajo Mountain; Arizona/Utah, USA – June 2019
Now Recruiting: New international Trades Team to support next phase of DigDeep Navajo Water Project roll-out in Navajo Mountain, Arizona/Utah, USA.
DATES FOR DIARY
ISH China, 6 – 8 May 2019, Beijing China
ISH China & CIHE – China International Trade Fair for Heating, Ventilation, Air-Conditioning, Sanitation & Home Comfort Systems is one of the most well-known exhibition platforms under the ISH brand. It has a stellar track record in gathering the world's leading brands within the HVAC and plumbing industry.
WPC 2019
The World Plumbing Council's 12th Triennial World Plumbing Conference, 11-13 September 2019, Melbourne Australia
The three day conference will be based on the WPC's Four Pillars of Plumbing program.
More info at www.worldplumbingconference.com
Contact secretariat@worldplumbing.org to provide an event report or request listing of an upcoming event.
Dezembro/2018
FROM THE CHAIRMAN – SHAYNE LA COMBRE
I was recently fortunate to attend the 25th Annual Indian Plumbing Conference in Mumbai hosted by one of the WPC's earliest members, the Indian Plumbing Association (IPA). This fantastic gathering, which had more than 800 delegates in attendance, also hosted the WPC's final General Meeting (GM) for 2018. I would like to thank and acknowledge the IPA for all their assistance in providing the WPC with the opportunity to meet and I would like to thank the WPC Directors and Members who took advantage of the combined session.
It is often a challenge as members of an international organisation to be able to meet regularly, which is why the World Plumbing Council's own triennial Conference is so important. The WPC has taken steps to make our meetings more accessible by livestreaming the General Meetings and hosting them on our YouTube channel, however there are some significant events, which cannot be missed.
As I have already, and will continue to do so in the coming months, I would like to urge you to make every effort to attend WPC 2019. There is no other event held in the world that gives the international plumbing community this same opportunity to come together and share knowledge, develop professionally and, network with like-minded people from around the world. WPC 2019 is where we will be able to gain understanding of the future direction for the global plumbing industry.
WPC Scholarship Report – Training in the USA
After a flight of more than 25 hours, Jean Claude arrived at Dulles Airport in Virginia on the 6th of August 2018 where he was greeted by WPC Deputy Chair and Director for Education and Training, Tom Bigley. Jean Claude's first priority upon arrival was to speak to his family in Rwanda and let them know that he had arrived safe and sound.
His first full day in the US was filled with sightseeing in Washington D.C. and he met General President Mark McManus of the United Association, the organisation hosting him and facilitating the scholarship.
On August 8, Jean Claude's educational experience began with a visit to a plumbing fabrication shop where he saw plumbing fabrications being built utilizing auto cad drawings and toured the weld shop and sheet metal shop. He also visited an extremely busy multi-family residential building construction site before heading to the Local 5 training center for a tour of the facility.
Thursday the 9th saw Jean Claude and Tom departed for Pittsburgh, driving through the mountains of West Virginia and Maryland to tour Local 27 Training center, an industrial (cracker) plant that is the largest construction site in the US and, an outpatient surgery center where they were installing medical gas piping and plumbing.
WPC Scholarship 2018 Recipients Announced
The WPC received a record number of applications for scholarships in 2018. The applications were not only many, they were also very high quality. We would like to thank all those that put in the time and effort to apply for a scholarship and encourage you in your worthy endeavours in your local plumbing industries. Applicants who have been unsuccessful this time are eligible to apply again in the future.
Congratulations to Sudip Das, John Lansing and Swathi Saralaya who have been selected to undertake scholarships in 2019.
WPC Membership Renewals for 2019
The WPC has been working on implementing a new, more user-friendly membership renewals system over the last few months after finding that the previous renewal process was quite frustrating for our members.
We are pleased to announce that we will be ready to launch our new e-commerce system in time for 2019 membership renewals. All current members* will receive their renewal email including invoice in mid-December.
There will no longer be the need to log in to an account to complete payment. There will be a link in the email that will take you straight into the 'cart' where you can proceed with entering your credit card details directly (Visa or Mastercard) and finalising payment.
Payment by bank transfer is still available with the same details as before and all the information will be included on the pdf invoice.
For any questions about the new system, please contact the secretariat. We do hope this will be a positive change for all members and assist in making the membership renewal process much easier.
*Members whose memberships are paid under group arrangements will not receive a renewal notice.
Community Plumbing Challenge (CPC) 2018 report – Successful Navajo Nation CPC Concludes in Thoreau, New Mexico
CPC 2018 was held October 21 to 27 on the Navajo Indian Reservation in the Baca-Prewitt area of New Mexico. Four teams of plumbers from the USA, Canada, South Africa and Australia gathered to change the lives of 10 families who had to go without indoor plumbing. Meeting for the first time at the Dig Deep shed/CPC hub on Monday morning, the participants learned who their teams were and where they would be working. A welcome ceremony by Dig deep and the St Bonaventure Indian Mission followed the morning brief.
CPC 2018 was very different to previous Challenges, as teams worked on mobile houses, which rather than being set up in towns, are scattered in small family clusters across the endless desert landscape. These clusters of mobile houses can be 30 or 40 miles apart, and there are no shops or other infrastructure to speak of.
Many of the houses had some plumbing systems installed which had fallen into disrepair over the years. The situation is exacerbated as the remote community has difficulty finding skilled tradespeople to maintain and repair failures.
Member Movements and Accolades
Paul Dodds, Training Manager at WorldSkills UK and WPC Individual Member, was presented with an MBE at Buckingham Palace in October. Paul received the award in recognition of his services to the skills competitors across the UK and internationally at WorldSkills. Paul has been involved in organising and delivering the plumbing skills competition in the UK for 27 years, and has served as WorldSkills UK's plumbing training manager for over 13 years.
After almost 50 years working in the UK plumbing and Heating industry Paul Johnson, Chief Executive at BPEC has announced that he will be handing over to Neil Collishaw (current Deputy Chief Executive) on 1st January 2019.
Paul said 'It is time for me to hand over to a new generation who are committed to meeting the ever changing education and training needs of people who work in our great industry.'
Love Your Lav Campaign – Kevin Wellman, WPC Director
WPC Executive Board Director and CEO of The Chartered Institute of Plumbing & Heating Engineering (CIPHE), Kevin Wellman has, for many years as part of his role with the WPC, worked to promote safer sanitation and plumbing across the world.
More recently, closer to home, Kevin and his colleagues at CIPHE have become concerned that UK public toilet provision has been declining and have been especially concerned to find that some UK high streets and tourist hot spots now no longer have any council-run public toilets.
According to figures obtained by BBC reporters under the Freedom of Information law, at least 673 public toilets across the UK have stopped being maintained by major councils (unitary, borough, district and city) since 2010. In that time, the UK's population has been increasing.
World Health Organisation (WHO) Updates
Drinking water, sanitation and hygiene in schools
Millions of children around the world do not have access to clean water or decent sanitation at school, putting their education – and those of girls in particular – at risk. The first ever global baseline report on drinking-water, sanitation and hygiene in schools – carried out by WHO and UNICEF – shows that 620 million children worldwide do not have access to decent toilets at school, and around 900 million children cannot wash their hands properly. Ensuring that children attend school and complete their education is crucial to a country's social and economic development, yet a lack of decent hygiene facilities discourages children, particularly girls, from doing so.
New guidance on the management of radioactivity in drinking-water
The WHO guidelines for drinking-water quality provide recommendations to support countries in developing drinking-water quality regulations and standards, as well as the associated risk management strategies that relate to the radiological aspects of drinking-water. In response to countries' requests for further practical guidance in support of the implementation of these recommendations, WHO has published a guidance document Management of radioactivity in drinking-water written in the format of stand-alone questions and answers. This new guidance document aims to help stakeholders address issues relating to the management of radioactivity in drinking-water in emergency and non-emergency situations. The guidance is complemented by case studies that share good practices and lessons learnt, and which illustrate how countries have faced specific challenges within different scenarios.
World Plumbing Day – Monday 11 March 2019
World Plumbing Day is just over 100 days away! Time to start thinking about how you will promote and take part in the Day.
Video project – use your phone to create a micro video for World Plumbing Day. What is a micro-video? A video of 3 seconds or less! Just enough for one sentence. The sentence is up to you. Maybe it's a goal 'clean drinking water for all', 'open defecation free', 'clean oceans' or a greeting 'Happy World Plumbing Day', 'Thank you plumbers'… That's up to you. Also, your sentence does not need to be in English, we would love to receive micro videos in a range of languages, reflective of our international organisation.
Please send your micro-videos via wetransfer or hightail to secretariat@worldplumbing.org by 25 February 2019.
DATES FOR DIARY
ISH India, 28 February – 2 March 2019, Mumbai India
ISH India powered by IPA, in its 3rd edition aims to raise the bar by bringing international manufacturers and suppliers dealing with plumbing, sanitation, bathroom, kitchen and renewable energy together with regional distributors and buyers.
ISH Frankfurt, 11 – 15 March 2019, Frankfurt Germany
ISH Frankfurt is the world's leading trade fair focusing on the responsible management of water and energy in buildings. It sets trends for modern bathroom design, sustainable heating and air-conditioning technology as well as intelligent home systems.
ISH China, 6 – 8 May 2019, Beijing China
ISH China & CIHE – China International Trade Fair for Heating, Ventilation, Air-Conditioning, Sanitation & Home Comfort Systems is one of the most well-known exhibition platforms under the ISH brand. It has a stellar track record in gathering the world's leading brands within the HVAC and plumbing industry.
WPC 2019
The World Plumbing Council's 12th Triennial World Plumbing Conference, 11-13 September 2019, Melbourne Australia
The three day conference will be based on the WPC's Four Pillars of Plumbing program.
More info at www.worldplumbingconference.com
Contact secretariat@worldplumbing.org to provide an event report or request listing of an upcoming event.